- HOME - LANDSCAPE - ABSTRACT - PRIMITIVE - PEOPLE - EXHIBITIONS - NEWS & EVENTS - ART BIO - ART STATEMENT - CONTACT -
Isabelle Borg
- 2008 -
The Way I See It - Blog by 'Gibli.'

From Bulls to Bikes. Isabelle Borg. Strange Cargo.
National Museum of Fine Art, 20-12-08 to 30-01-09

Isabelle Borg has been established on the Maltese art scene for almost 25 years now. This is witnessed by Journey to the South a self-portrait enclosed within a suitcase being exhibited during Strange Cargo: the current exhibition.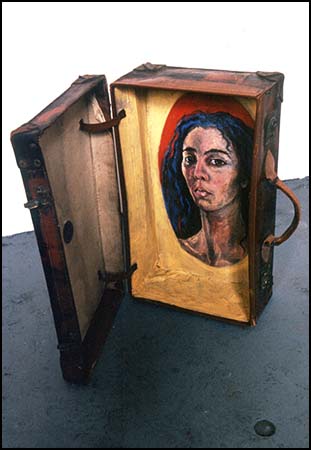 First presented in Malta in 1989 the said encased portrait must have taken the scene of the time by storm thanks to its unconventional approach (perhaps similar in a way to the portraits on the inside of Egyptian sarcophagi or Fayoum portraits - without of course, the connotations of the afterlife). Almost 20 years later, Borg re-examines portraiture within suitcases and presents a new offering to the public - although admittedly the new portraits are less visceral than the original prototype, which seems to have lived to see many a tale – like, I assume, the artist herself over the past decades for that matter.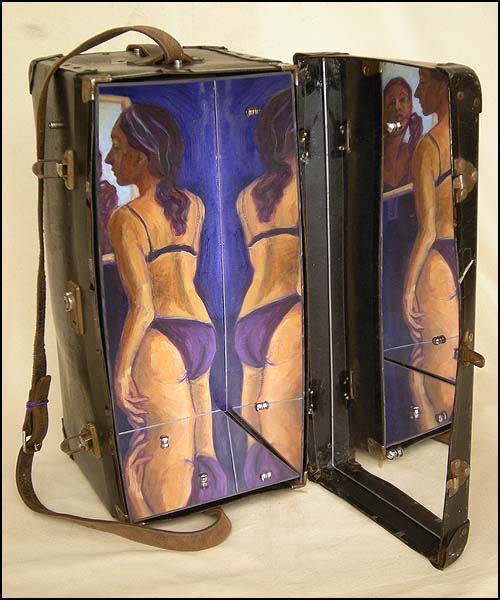 A cheeky re-interpretation however, is Does my Bum Look Big in This?: a suitcase lined with mirrors and a self-portrait of the artist applying lipstick (not shaving) in nothing but underwear inside. Unfortunately gone are the days of Moon Goddesses, bulls and bull riders, and some might experience Borg's more recent work as stuck on repeat: nooks and crannies of the Grand Harbour and the wide expanses of countryside which is Ireland exposed on Expressionistic canvases -pretty standard when it comes to Borg. However, it's in the nuances which one finds newness: it is not too difficult to realise how things have progressed from the past to today if one looks at the execution and the tones of colour used (try exploring isabelleborg.com). A powerful, impassioned personality has ever since the beginning emerged in the works of Isabelle Borg. In most of her paintings there is a strength and fiery energy which cannot be ignored and that is what sets her apart from other artists notwithstanding the variety of subject matter they might be approaching.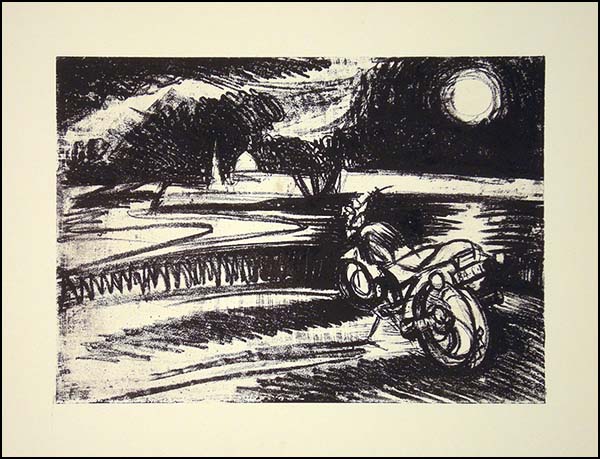 That said, it must be pointed out that the current exhibition does feature a number of works depicting motorbikes, and that, I believe, is a first for Isabelle Borg.

Other works on show include Pillion, which emerges as a bombardment of erotic overtones.
Exiles, which portrays one of those rare, playfully calm moments which life affords.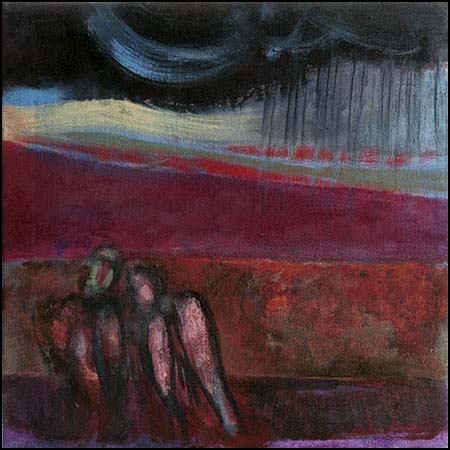 Burren Shower strikes me as the embodiment of a feeling; an intimate portrait of the soul, a landscape modeled and personified into a brazen and disillusioned rendition of love through the eyes of an artist. The painted couple huddles together in the nude yet there is no sexual energy, the fun is over, and all that's left is a cold realization that the dark clouds are fast approaching and it will soon be time to part. The melancholic element may be strong but the landscape is far from bleak and perhaps that may come as a reassurance that, in the end, everything will turn out fine.

Posted by Gibli, at 11:35 AM Monday, December 29, 2008.

- 2008 -
© 2010 Isabelle Borg